Spice Williams-Crosby Honored at the 13th Annual International Student Film Festival Hollywood
While student filmmakers received awards for their outstanding films at the 13th annual International Student Film Festival Hollywood (ISFFH), Spice Williams-Crosby was recognized for her achievements in the film industry with the 2015 ISFFH Lifetime Achievement Award. The awards ceremony took place at the Beverly Garland Theatre in North Hollywood on Sunday, November 15th.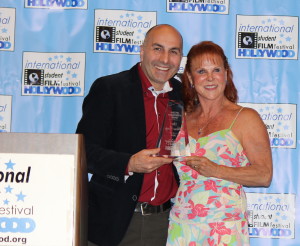 Spice Williams-Crosby has worked in such feature motion pictures as Star Trek V, Cherokee Kid, From Dusk Till Dawn, The Guyver, A Simple Plan, and For The Love Of The Game. She has also guest starred on numerous TV shows including Roseanne, My Two Dads, Vampire Slayer and more, in what she terms as an "action actress."  "In fact," says Spice, "I can't remember doing a role where I wasn't asked to perform some kind of physical feat" Since 1986, Spice has been stunt doubling Deidre Hall (Marlena) on "Days of our Lives and has also played several roles on that soap. Currently, Spice has produced her own show called, "I FIGHT FOR MY LIFE" about women victims and turning them into women victors!
Having three black belts and a brown belt, Spice compared some of martial arts to show business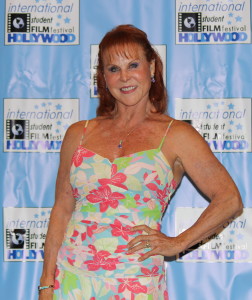 as both require tenacity, honesty, integrity and discipline.  Spice makes four points:
1. Stay a white belt – there is always more to learn, stay hungry, you are only as good as your last movie.
2. Empty your cup – empty your mind to allow more knowledge, you need to constantly reinvent yourself.
3. Stay ready – Constantly invest in yourself.
4. Be dependable – longevity is dependability.
The ISFFH is a nonprofit organization dedicated to supporting the next generation of filmmakers, please visit the ISFFH website for more information on this important event and to support the festival www.isffhollywood.org.
We are grateful to our supporters and sponsors who help make this event possible each year, including RobinSaban.com, MrPizza.at, Variety411, American Building Supply, Wells Fargo, Footage Firm, Video Blocks, Turkla.com, Movie Magic, Empire Grip, and SkylineBeads.com.