ISFFH Q & A with Director Lorena Salas Reyes
Lorena Salas Reyes won Best Animation for her film "Tale of Baku." in the 2013 International Student Film Festival Hollywood (ISFFH) and we had the opportunity to have a Q & A interview with her recently and learn some more about her and where she got the inspiration for her film.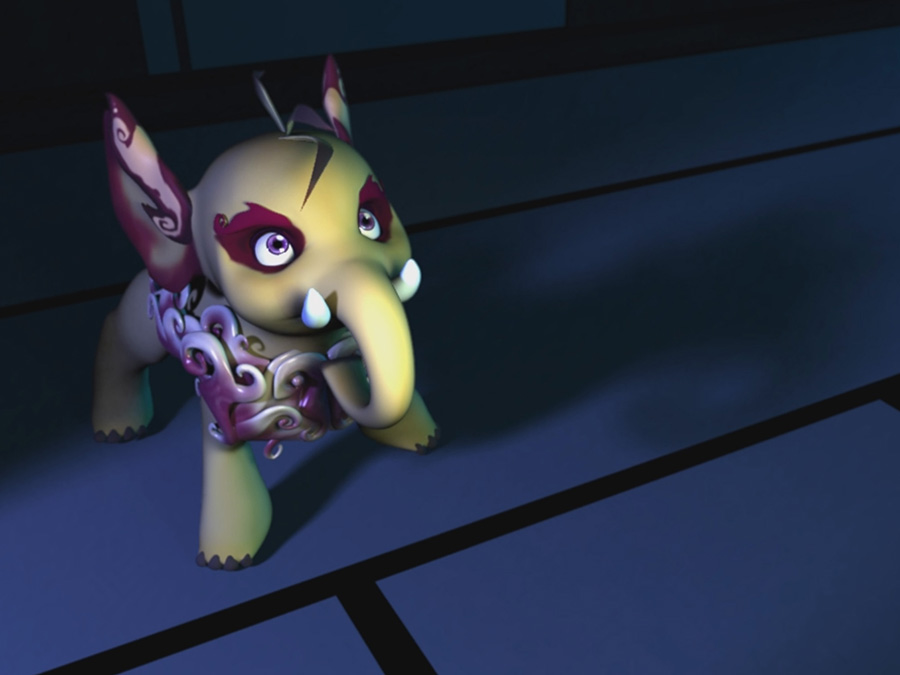 ISFFH: Tell me about yourself and what drives your creativity.
Lorena Salas Reyes: I am passionate about storytelling in any of its form but I'm mostly fascinated by myths and legends from all around the world.  When I was growing up I couldn't travel much so my form of exploring the world was through reading, mostly history and art books. My creativity is mostly driven by  the new, the unknown, by trying to see the world in ways I don't usually do and find new and exciting things I've never heard or seen about before.
ISFFH: Where do you find inspiration?
Lorena Salas Reyes: I find inspiration by reading about the different cultures around the world and their stories/ Myths are storytelling at its rawest form and I guess that's what inspires me, combined as well with a love of art.
ISFFH: Who are your mentors?
Lorena Salas Reyes: My two main mentors in school were Mark Simon, the program coordinator for Sheridan College's post grad in computer animation and Kris Howald. Mark is a brilliant storyteller as well as a remarkable animator, but most of all, he's always there to support his students. Kris was also my teacher, always inspiring his class to look for new and inventive things of telling the message.
ISFFH: Tell me about your film and where you got the idea for it.
Lorena Salas Reyes: My Film TALE OF BAKU was based on the Japanese mythological creature "Baku", which was said to eat nightmares and bring good fortune to people. I love Japanese folklore as well as their art for the Ukkyo-e period so the idea just came when watching samurai movies from Akira Kurosawa. The idea of trying to "Disney-ify" something from the eastern culture to something more western -like gave me the opportunity to play around with creature design.
ISFFH: How do you describe your filmmaking process?
Lorena Salas Reyes: For independent 3D CG short film making, It all starts with an idea that sprouts in an unexpected moment, and that usually is at a cafe or when visiting a museum. I sketch out  ideas, write them down, then figure out what I want to tell the audience. After that, do the proper research depending on the context of the story (Where does it take place? What period is it? etc) , look at classic film examples and start storyboarding. Around Storyboarding, I contact my amazing music composer friend Felix, and send him the storyboard/animatic, so he can start getting a vibe of it and start composing the music. After this step, I keep sending every week the progress in video form so that Felix can adapt it into timing, etc.
At the same time of designing, I start building the proper assets (environments, props, characters) and getting them ready. When the storyboards have nailed down what I want to tell in the story, I translate everything into 3D layouts and see how the camera movement and compositions are working.
After layout has been nailed down, it's all about animation!! Throughout the design phase and animation, I try several render and lighting tests to see what would work and when I've decided about which kind of lighting, after animation it all goes to lighting and rendering. After that, it's all about compositing the shots, post-production and sound, and voila!
 ISFFH: Who is the audience you wrote the film for?
Lorena Salas Reyes: I wrote the film for children, mostly, but with an action flare that older audiences can like.
ISFFH: What message do you want people to take away after seeing your film?
Lorena Salas Reyes: I want people to be curious about tales and myths of cultures they don't know, and start reading more about it
ISFFH: What do you consider the elements of a good film?
Lorena Salas Reyes: The elements of good film are definitely a good story, good character development and great composition/cinematography . Those three are the most important elements.
ISFFH: What advice do you have for fellow student filmmakers?
Lorena Salas Reyes:  Do your research, and look back on the classics. They had so many limitations back then that made them figure out creative ways of pulling through, and that's something quite inspiring.
ISFFH: What are your goals? Where do you see yourself in 10 years?
Lorena Salas Reyes:  In 10 years I want to become an art director for a big feature film, and have a few other amazing short films that I can be proud of and that are loved by audiences.
ISFFH: How can people follow your work?
Lorena Salas Reyes:
Website:  http://www.kuakness.com/
Vimeo:  https://vimeo.com/user4972842
Facebook:  https://www.facebook.com/
Tumblr: http://loresalas.tumblr.com/
ISFFH: Any final words you want to share?
Lorena Salas Reyes:  Just keep on swimming :), as hard as the current is pulling you back, just keep swimming and you'll get there.
About the International Student Film Festival Hollywood
Hollywood is the capital city of the entertainment world. The International Student Film Festival Hollywood is the only film festival that embraces all ages from around the world, offering students the unique opportunity to gain the recognition of film industry leaders creating career development opportunities in their home countries as well as the United States. The opportunities provided by the ISFFH not only benefit the students, but the world community by bringing together people of diverse cultures and differing viewpoints.
The International Student Film Festival Hollywood is now accepting submissions for its 12th annual Film and Video Competition. The Festival will be held in the NoHo Arts District of North Hollywood, CA USA November 7 – 9, 2014. The competition is open to students of all ages and academic backgrounds. Submission deadline is August 15, 2014. More information and entry forms are available on the festival website www.isffhollywood.org. You can also find us on facebook www.facebook.com/ISFFHollywood.