11th Annual ISFFH Closes with Filmmaker Awards
The 11th Annual International Student Film Festival Hollywood (ISFFH) drew to a close on Sunday, October 27, 2013 in the theater at Beverly Garland's Holiday Inn in the NoHo Arts District of North Hollywood. 29 awards were presented to the top filmmakers this year. Student films were screened from the Austria, Belgium, Bulgaria, Canada, Colombia, Germany, Hong Kong, Indonesia, Israel, Netherlands, Portugal, Taiwan, United Kingdom and throughout the USA.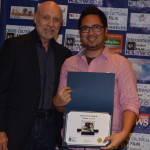 Mark D. Manalo from the University of Southern California took home the Grand Jury Award for his film "Present Trauma". The ISFFH would like to extend congratulations to all of the participants; you are the future of this industry!
Award-winning actor Hector Elizondo received the ISFFH Lifetime Achievement Award in recognition of his prolific career in film and television. Mr. Elizondo shared stories of his career and took questions from the audience.
Actor and ISFFH Board Member Calvin Jung introduced Mr. Elizondo and told how the two of them met in the production of "Sly Fox" and became friends working together over the years. Mr. Jung presented filmmaker awards along with Mr. Elizondo during this year's ceremony.
2013 awards were Best Junior High School Documentary: The Batchelor / Bourne Exchange: Friends for Life directed by Carmen LaBella and Jacob Wisniewski from Lora Batchelor Middle School, USA; Best Junior High School Silent Film: Slenderman directed by Jeremy Basset and Tyler Colvin from Millikan Middle School, USA; Best Junior High School Dark Comedy: Epitaph by Charles Blecker from SF Art & Film for Teenagers, USA; Best Junior High School Comedy: Out of Order directed by Xander Lawson and Jeremy Basset from Millikan Middle School, USA; Best Junior High School Music Video: Sick Day directed by Hermilio Rubio and Matthew Wooten from Lakewood Christian Middle School, USA; Best High School PSA: They Lied directed by Emily Hilton and Megan Hilton from Seattle Academy of Arts and Sciences, USA;  Best High School Documentary: Fresh Tracks directed by Jonathan Kang and Trevor Clelland from Heritage Woods Secondary, Canada; Best High School Sci-Fi: Earth Watcher directed by Ivan Li from HKUGA College, Hong Kong; Best High School Drama: The Brother directed by Michael Stevantoni from Carihi Secodary School, Canada; Best High School Dark-Comedy: Lovechild directed Olivia DeLaurentis from Agoura High School, USA; Best High School Comedy: That Guy directed by Sam Gunn from Oak Park High School, USA; Best High School Experimental: Difference of Opinion directed by Maria Alvarez from Beachwood High School, USA; Best Foreign Language Junior High School Musical: Take Three directed by Ori Ben Ari from Alon, Israel; Best Foreign Language High School Drama – Screen of Lies directed by Tal Vakselblat Nofey Golan, Israel; Best Foreign Language Action: BRUEDER directed by Daniel Rübesam from Filmakademie Baden-Württemberg, Germany; Best Foreign Language Comedy: The Dandeliondirected by Alexandre Drouet and Sophie-Clémentine Dubois from INSAS, Belgium; Best Foreign Language Animation: Watch directed by Shih-Chieh Hung from National Taiwan University of Science and Technology, Taiwan; Best Foreign Language Drama: Onatah directed by Alexander Bruckner Donau University Krems, Austria; Best Sci-Fi: Leaving Earth directed by Joshua Marcus Lester from University of Colorado, USA; Best Horror / Thriller: What Comes From Within directed by Alex Aronson from Syracuse University, USA; Best Psychological / Thriller: Stuffed directed by Gabby Egito from New York Film Academy, USA; Best Fantasy: The Clown directed by Ping-Wen Wang from Loyola Marymount University, USA; Best Documentary: Breathe Life directed by Matthew Jekowsky from Chapman University, USA; Best Dark Comedy: Don't Speak at Funerals directed by Montserrat Gomez from Vancouver Film School, Canada; Best Comedy" In Passing directed by Alan Miller from USC, USA; Best Animation: Tale of Baku directed by Lorena Salas Reyes from Sheridan College, Canada; Best Action: The Adventures of Sheriff Kid McLain directed by Gui Pereira from The Art Institute of California, USA; Best Drama: Our World directed by Juan Francisco Pérez Villalba from Pontificia Universidad Javeriana, Colombia; and the Grand Jury Award: Present Trauma directed by Mark D. Manalo from USC, USA.
The ISFFH is a non-profit organization that relies on the generosity of others. For more information about the ISFFH, please visit our website www.isffhollywood.org.
We thank the following sponsors for supporting the next generation of filmmakers – RobinSaban.com, LA411, NoHoArtsDistrict.com, American Building Supply, Wells Fargo, Footage Firm, Video Blocks, Turkla.com, Movie Magic, Empire Grip, and SkylineBeads.com.