Support the ISFFH and the Next Generation of Filmmakers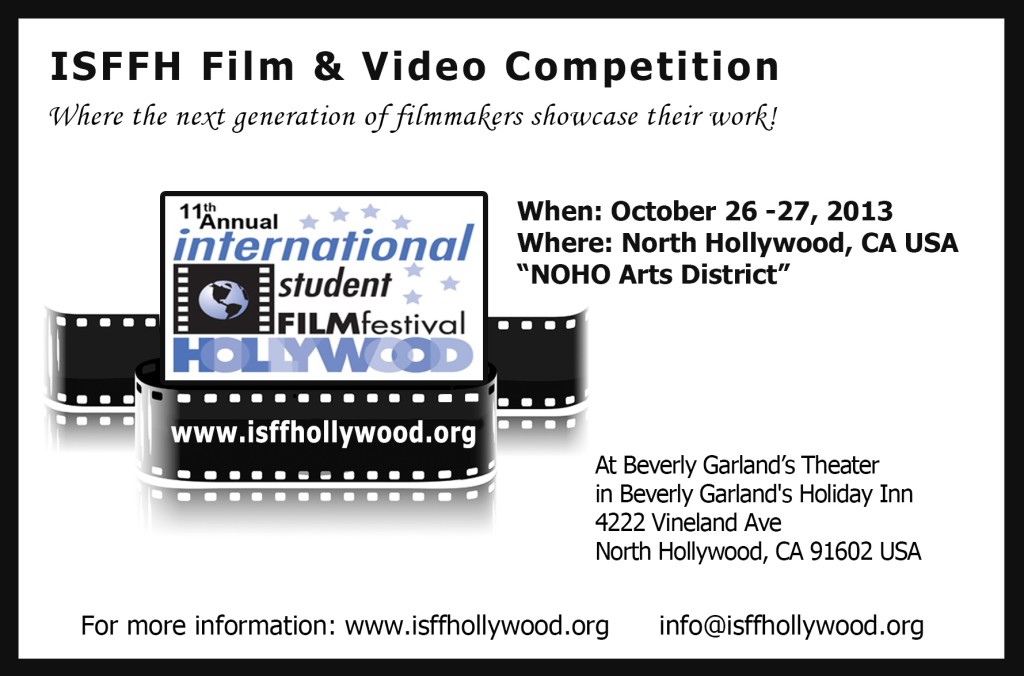 The International Student Film Festival Hollywood is currently running a campaign on Indiegogo raising funds and offering some fantastic perks in exchange for your support! http://igg.me/at/ISFFHollywood/x/4359400
Hollywood is the capital city of the entertainment world. The International Student Film Festival Hollywood is the only film festival that embraces all ages from around the world, offering students the unique opportunity to gain the recognition of film industry leaders creating career development opportunities in their home countries as well as the United States.
The world is divided by politics, ideology and culture. Through the common language of the film arts, we bridge the separations and share our common humanity. We share a global community with all who bring artistic vision to life in film. This is the vision that drives our work. Our sole mission is to bring together the best student filmmakers in the world to celebrate their creativity and love of film.
Student filmmakers actively engage in discussions facilitated by industry professionals, further building their enthusiasm, self-confidence, and public speaking skills. At the same time, it is an opportunity to entertain, enlighten, educate, and engage the audience.
The opportunities provided by the ISFFH not only benefit the students, but the world community by bringing together people of diverse cultures and differing viewpoints.
Visit our Indiegogo page at http://igg.me/at/ISFFHollywood/x/4359400. We thank the following sponsors for providing in-kind donations for this fundraising campaign- Footage Firm, LA411, and Movie Magic. The ISFFH is a non-profit organization that relies on the generosity of others and we thank all of our supporters.