The plan to open the Cinema Cafe in Cetinje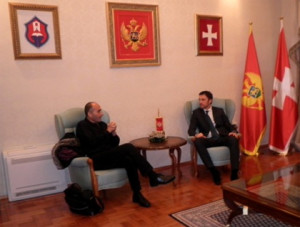 CETINJE, MONTENEGRO – Producer and Director of the International Student Film Festival in Hollywood, Robin Saban paid a visit to the Capital on Friday. He was in conversation with the Mayor of Cetinje Aleksandar Bogdanovic and has expressed interest in opening Cinema Cafe – restaurant building character, with a library of Cetinje.
Objects with similar concepts already exist in many cities of Europe and North America. Mayor Bogdanovic showed an openness of the city administration to support the aforementioned.
A special part of the discussion was related to the ongoing projects of the city administration,  Mr. Saban expressed particular interest in the multi-purpose center MACCOC, and the actual building of the Faculty of Arts of the University complex.
The original story can be seen here – http://www.pobjeda.me/2012/12/07/u-planu-otvaranje-cinema-cafea-na-cetinju/