Local Teacher Received the 2012 ISFFH Lifetime Achievement Award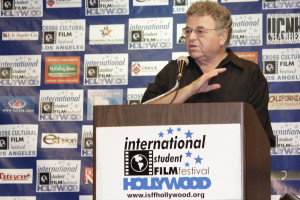 Robin Saban, ISFFH Founder and President presented Alex Hakobian with the Lifetime Achievement Award at the 10th annual International Student Film Festival Hollywood (ISFFH) during the awards ceremony on November 18, 2012. The audience was filled with student filmmakers from around the world including many of Mr. Hakobian's past students to share in this honor.
After a career in film, Mr. Hakobian has spent the past 26 years making a difference in the lives of young people, teaching his favorite craft of filmmaking to over 4,500 students; many of these students have gone on to careers in the film industry. Mr. Hakobian said "It is wonderful to be remembered and recognized when a career ends, especially when being involved in that field spanned over 45 years and has brought many good memories."
Mr. Hakobian shared stories of his life and career and reminded the filmmakers to keep working hard, to learn their craft better than anyone else do that they will be ready when their break comes.
Mr. Hakobian said, "I've received several "Good by Awards" but none meant more than this one from the International Student Film Festival Hollywood, and the reason is simple. This festival has served strictly student film makers for ten years and I have taught strictly student film makers for 26 years. We are, and have been, on the same track and wavelength. Harnessing the strength and creativity of youth creates the next generation of movers and shakers, and that's where breakthroughs for the betterment of humanity lay."