10th Annual ISFFH Closes with Filmmaker Awards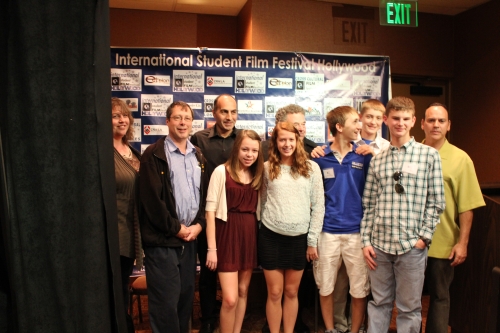 North Hollywood, CA, USA – The 10th Annual International Student Film Festival Hollywood (ISFFH) drew to a close on Sunday, November 18, 2012 in the theater at Beverly Garland's Holiday Inn in the NoHo Arts District of North Hollywood. 28 awards were presented to the top filmmakers this year. The Festival received submissions from 15 countries worldwide, including Austria, Bulgaria, Canada, China, Hong Kong, India, Israel, Romania, Singapore, Taiwan and throughout the USA.
A long time friend and supporter of the ISFFH, Alex Hakobian received the 2012 ISFFH Lifetime Achievement Award. Mr. Hakobian shared a short story of his life and journey through his career from working as a stage actor and his work in film including acting in comedy commercials, floor director, cameraman, audio projectionist and gaffer, all while writing screenplays. He spent several years collaborating with the great Ivan Tors, they worked on TV series, feature films and other stories. The past 26 years, Mr. Hakobian has been making a difference in the lives of young people, teaching his favorite craft – filmmaking to over 4,500 students and many of these students have gone on to careers in the film industry.
Academy Award Winning special effects makeup artist, monster maker & animatronic character creator, Howard Berger received the 2012 ISFFH Award of Excellence for his amazing career and the inspiration he gives the next generation of filmmakers. Mr. Berger has over 800 feature film and television. This year Howard completed work on Disney's OZ The Great and Powerful and is currently on set shooting in New Mexico. After a video message from Mr. Berger, his son Travis graciously accepted the award on behalf of his father.
Saturday featured a special lecture presented by Austrian filmmaker Ip Wischin, founder of "Vienna Filmcoach School." Mr. Wischin spoke of film dramaturgy techniques; sharing his unique methods of easily grasping very complicated techniques that go far beyond the formulaic recipes you usually get.
ISFFH 2012 awards were Best Elementary School Animation: Animal Birthday Party Directed by PK Keith; Best Junior High School Documentary: George Taliaferro: A Hoosier Legend Directed by Jeb Drew and Ajay Sharma; Best Junior High School PSA: Flea on Trial Directed by Jacob Gisbert and Alexa Zwickel; Best Junior High School Drama: Siren Directed by Charles Blecker; Best Junior High School Musical: Magical Fresno Directed by Jacob Gisbert and Alexa Zwickel; Best Junior High School Animation: Make a Difference Directed by Chak Fung; Best High School PSA: Don't Tempt Fate: That Text Can Wait Directed by Jared Harris; Best High School Fantasy: About the Size of a Human Heart Directed by Gregory Eagan; Best High School Suspense/Thriller: Monitor Directed by Jared Rosenthal; Best High School Action: Two Towns From Mexico Directed by Michael Munro; Best High School Drama: Never Ever Directed by Nicole Provost; Best High School Dark-Comedy: Me, Myself, & I Directed by Shobhit Jain; Best High School Comedy: Bookstore Directed by Alexander Haney; Best High School Animation: Snub-nosed Elf Directed by Chi Keung Wong; Best Foreign Language High School Drama: Behind Her Eyes Directed by Nofar Shaoni; Best Foreign Language High School Comedy: Nurd Strike – Plague of the Geeks Directed by Nadav Gazuntheit; Best Foreign Language High School Documentary: Won't Stop Walking Directed by Adaya Cohen; Best Foreign Language Silent Film: Poppies of Bolero Directed by Gabriel Boholt; Best Foreign Language Experimental: Choice Directed by Tsvetan Naydenov; Best Foreign Language Comedy: Holiday of the Holidays Directed by Tal Reinan; Best Sci-Fi: Iris Directed by Justin S. Lee; Best Suspense/Thriller: Shark Directed by Venkat Krishnan; Best Documentary: From Bullets to Bubbles…Directed by Debra A. Hill; Best Silent Film: Jonah and the Crab Directed by Laurel Cohen; Best Animation: The Seventh Star Directed by Wen Huang; Best Musical: Incest! The Musical Directed by Grant Reed; Best Drama: Three Small Words Directed by Tyson Breuer and Grand Jury Award: Hu's Game Directed by Shaun Seong-young Kim.
Congratulations to all of the ISFFH participants! You are the future of the industry.
The ISFFH is a nonprofit organization dedicated to supporting the next generation of filmmakers, please visit the ISFFH website for more information on this important event and to support the festival www.isffhollywood.org
The ISFFH is a non-profit organization that relies on the generosity of others. We thank the following sponsors for supporting the next generation of filmmakers. American Building Supply, Wells Fargo, CRA/LA, Marilyn Bradbury, Movie Magic, Footage Firm, Video Blocks, Empire Grip, RobinSaban.com, CaliforniaExploration.com, LA411, Turkla.com, TurkishJournal.com and NoHoArtsDistrict.com.