2012 Alex Hakobian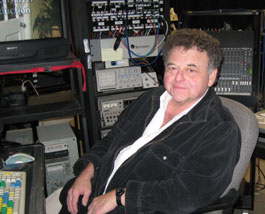 Just retired; Mr. Hakobian has been teaching filmmaking for the past 26 years with Los Angeles Unified School District. Hakobian started his career as a stage actor, then moved to film, worked as a screenwriter and then became a teacher. Hakobian immigrated to the United States from Germany at a young age; after serving in the U.S. Army he graduated from UCLA School of Theater, Film, and Television.
Hakobian's first industry job was for a small ABC-TV affiliate in 1965 where he was hired to do a Ford Comedy spot and ended up at the station for over two years, working as Floor Director, Cameraman, Audio Projectionist and doing over 40 comedy commercials. In 1968, he was as a stand-in for Clifton James in "Tick, Tick, Tick"; he had numerous other acting jobs and did work as a gaffer all while writing screenplays and stories. He had the privilege of collaborating with the great Ivan Tors from 1976 until Tors' death in 1983; they worked on TV series, feature films and other stories; during that time he also collaborated with Director Kenneth Annikin.
The past 26 years, Hakobian has been making a difference in the lives of young people, teaching his favorite craft – filmmaking to over 4,500 students. His students have won hundreds of local, state, national, and international awards. Many of those students have, and are working in the film industry. He has a knack for bringing out creative talent and has inspired many student filmmakers to pursue their dreams. Now Hakobian is starting a new chapter in his life as he retired from teaching this past year; he has an opportunity to continue the pursuit of his dreams …who knows where this chapter will lead.