Celebrating Ten Years! ISFFH 2012 Call for Entries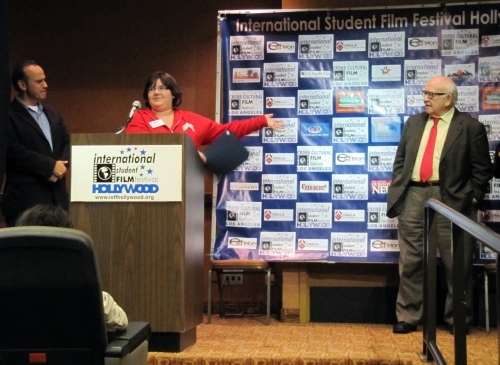 North Hollywood, CA – The International Student Film Festival Hollywood (ISFFH) is celebrating 10 years! The ISFFH is now accepting submissions for its annual Film and Video Competition. The Festival will be held in the NoHo Arts District of North Hollywood, CA USA November 17 – 18, 2012. The competition is open to students of all ages and academic backgrounds. Submission deadline is August 31, 2012. More information and entry forms are available on the festival website www.isffhollywood.org.
Art is and always has been our universal language and the ISFFH has been successfully reaching out to student filmmakers all over the world for more than nine years. It is this generation of story tellers that will be influencing the following generations. The ISFFH gives them a platform to be seen, offering students the unique opportunity to gain the recognition of film industry leaders and create career developmentopportunities.
The festival was founded by entertainment industry veteran Robin Saban, who's years of work in film and theater inspired him to establish this international film festival solely geared to students. Passionate about the opportunity to offer student filmmakers well deserved recognition for their talents, Mr. Saban has spent time during the last two years promoting the ISFFH in Europe.
The ISFFH is a non-profit organization that relies on the generosity of others. Please visit www.isffhollywood.org for donation and sponsorship opportunities.
We thank the following sponsors for supporting the next generation of filmmakers. American Building Supply, Wells Fargo, CRA/LA, Footage Firm, Video Blocks, RobinSaban.com, CaliforniaExploration.com, LA411, Turkla.com, Movie Magic, and NoHoArtsDistrict.com.