ISFFH 2011 Last Call for Entries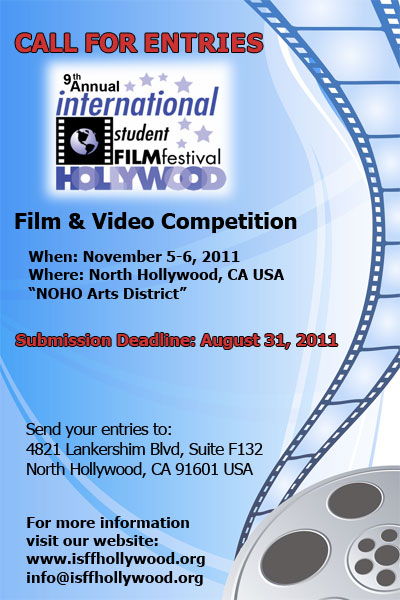 The entry deadline of August 31, 2011 is fast approaching for the 9th annual International Student Film Festival Hollywood. Students – don't miss this opportunity to have your film screened among your peers where you will also receive friendly feedback. The competition is open to students of all ages and academic backgrounds. Student filmmakers have come to the ISFFH from all of the world's seven continents, it is a time to mingle and exchange ideas with fellow filmmakers from different cultures as well as professionals currently working in the industry. The Festival will be held in the NoHo Arts District of North Hollywood, CA USA November 5 – 6, 2011.
Versatile, committed, eloquent and talented are all adjectives that describe actor/activist Edward Asner.  Schedule permitting, Mr. Asner will be speaking to student filmmakers and guests at the awards ceremony as he receives the ISFFH Lifetime Achievement Award this year. One of the most honored actors in the history of television; Edward Asner has been the recipient of seven Emmy Awards and 16 nominations, as well as five Golden Globe Awards and served as National President of the Screen Actors Guild for two terms.  He was inducted into the TV Academy Hall of Fame in 1996.  Asner received the Ralph Morgan Award from the Screen Actors Guild in 2000, presented periodically for distinguished service to the Guild's Hollywood membership.  In March 2002, he was again honored by The Guild as the 38th recipient of the prestigious Life Achievement Award for career achievement and humanitarian accomplishment, presented annually to an actor who fosters the highest ideals of the profession.
Art is and always has been our universal language and the ISFFH has been successfully reaching out to student filmmakers all over the world for more than eight years.  It is this generation of story tellers that will be influencing the following generations. The ISFFH gives them a platform to be seen, offering students the unique opportunity to gain the recognition of film industry leaders and create career development opportunities.
More information and entry forms are available on the festival website www.isffhollywood.org
The  ISFFH is grateful to our sponsors who include American Building Supply, Wells  Fargo, CRA/LA, CISCorp, Saban Enterprises, Marilyn Bradbury, Rotary Club of  Studio City and Sherman Oaks, Gloria and Lou Weintraub, Creative Handbook, Footage  Firm, CaliforniaExploration.com, LA411, Turkla.com, Movie Magic,  NoHoArtsDistrict.com.