2008 Mike Medavoy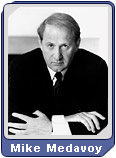 Robin Saban, Founder and  President of the International Student Film Festival Hollywood (ISFFH) is  pleased to announce Mike Medavoy as the recipient of the Lifetime Achievement  Award to be presented at the 6th annual International Student Film Festival  Hollywood Awards Ceremony on Sunday, November 9, 2008 at Beverly Garland's  Holiday Inn in the NoHo Arts District of North Hollywood.
Dreams  do come true, Mike Medavoy is living proof. He is an inspiration to the next  generation of filmmakers and us all. The ISFFH Lifetime Achievement Award was  established to honor a single honoree based on the recipient's active career.
Medavoy  began his career at Universal Studios in 1964. He rose from the mailroom to  become a casting director. In 1965, he became an agent at General Artist  Corporation and then vice-president at Creative Management Agency. Joining  International Famous Agency as vice-president in charge of the motion picture  department in 1971, he worked with such prestigious clients as Steven  Spielberg, Francis Ford Coppola, Terrence Malick, Jane Fonda, Donald  Sutherland, Gene Wilder, Jeanne Moreau, and Jean-Louis Trintignant among  others. United Artists brought him in as senior vice president of production in  1974 where he was part of the team responsible for "One Flew Over the  Cuckoo's Nest", "Rocky",and "Annie Hall", all of which won  the Best Picture Oscars over three successive years in 1975, 1976, and 1977.  Other notable pictures included "Apocalypse Now", "Raging Bull", "Network",  and "Coming Home".
In 1978  Medavoy co-founded Orion Pictures. During his tenure "Platoon", "Amadeus", "Robocop", "Hannah and Her Sisters", "The Terminator", "Dances with Wolves",and "Silence of the Lambs" were released. In  1990, after twelve fruitful years at Orion, Medavoy became Chairman of TriStar  Pictures. Under his aegis, critically acclaimed, box office successes, "Philadelphia", "Terminator 2: Judgment Day" (with  Carolco), "Sleepless in Seattle", "Cliffhanger" (with Carolco), "The Fisher King", "Legends of the  Fall" and Steven Spielberg's "Hook" debuted. Of all the films  Medavoy has been involved with, sixteen have been nominated for Best Picture  Oscars and seven have won Best Picture Academy Awards and numerous  international festival awards.
Today,  as chairman and co-founder of Phoenix Pictures, Mike Medavoy has amongst other  films brought to the screen "The People vs. Larry Flynt", "The Mirror  Has Two Faces", "U-Turn", "Apt Pupil", " The Thin Red  Line", "The Sixth Day", "Basic" and "Holes." These  films have received many nominations and won two Golden Bears at the Berlin  Film Festival and five Golden Satellite Awards, a cinematography award for John  Toll from the ASC and nominations from the DGA and WGA for Terrence Malick. Two  of his films, "The Thin Red Line" and "The People vs. Larry Flint",  a Milos Forman movie received Academy nominations.
Recently  Phoenix also  released, among others, "All The King's Men" (starring Sean Penn, Jude  Law, Kate Winslet, Anthony Hopkins and Mark Ruffalo, written and directed by  Steven Zaillian), "Zodiac" (starring Jake Gyllenhaal, Robert Downey Jr.,  Mark Ruffalo, directed by David Fincher). "Miss Potter" (starring Rene  Zellweger, Ewan McGregor, directed by Chris Noonan). "Pathfinder" (starring Karl Urban, directed by Marcus Nispel)and has started production on  both "Shutter Island," a film directed by Martin Scorsese, starring  Leonardo Di Caprio and "Shanghai," starring John Cusack.
In  2002, Simon & Schuster published Mr. Medavoy's best-selling book, "You're  Only As Good As Your Next One: 100 Great Films, 100 Good Films and 100 For  Which I Should Be Shot" – which was subsequently released in paperback in 2003.  Mike is also currently working on a book regarding the impact of media on U.S.  Foreign Policy together with co-author Nathan Gardel, editor of the National  Political Quarterly.
Medavoy  has made a mark not only within his industry, but in his community as well,  earning numerous awards.  He has served  on many boards and is one of the original founding members of the Board of  Governors of the Sundance Institute (1978) and is chairman emeritus of the  American Cinematheque and the Stella Adler Actors Studio. In addition,  he was also inducted into the Hollywood Walk of Fame and received a star on Hollywood Boulevard  (2005).
Throughout  his career Mike Medavoy has also been active in politics; he actively  participated in President Clinton's election campaigns in 1992 and 1996. In  2002, Governor Gray Davis appointed Mike to the California Anti-Terrorism   Information Center's  Executive Advisory Board.
Mike  was born in Shanghai, China  in 1941 of Russian-Jewish parents, and lived in Chile from 1947 to 1957. At UCLA he  was in the honors program and is involved with a number of organizations. He is  married to Irena Medavoy, who is a founder of Team Safe-T and the Industry Task  Force, as a charity executive and fundraiser.  She is also a national  finance chair for Senator Obama. Mike Medavoy has two sons, Brian and Nicholas,  and resides in Beverly Hills,   California.
Hollywood is the capital city of the  entertainment world. The ISFFH offers student filmmakers from all over the  world a unique opportunity to gain the recognition of film industry leaders. It  is a forum for student filmmakers to showcase their independent films in Hollywood. This event at  the epicenter of the film industry puts these students face to face with  working Directors, Producers, and other industry professionals throughout the  event, giving them the invaluable opportunity to promote themselves and their  films.
After years of work in film and  theater and passionate about the opportunity to offer student filmmakers  well-deserved recognition for their talents, entertainment industry veteran, Robin  Saban founded the International Student Film Festival Hollywood , focused  solely on students in September of 2003.
This year the winner of Best  Comedy will receive a paid distribution deal from Fun Little Movies giving  their film a worldwide audience on mobile devices. www.funlittlemovies.com.
For more information about the  ISFFH or to purchase your Festival tickets, please visit our website http://www.isffhollywood.org
The ISFFH is sponsored by  American Building Supply, Wells Fargo, CRA/LA, CisCorp, Saban Enterprises, A  Matter of Pixels, Creative Handbook, Production Hub, Discmakers, Turkla.com,  RobinSaban.com, CaliforniaExploration.com, Marilyn Bradbury, Turkish Journal, Fun Little Movies, and NoHoArtsDistrict.com.