2007 A.C. Lyles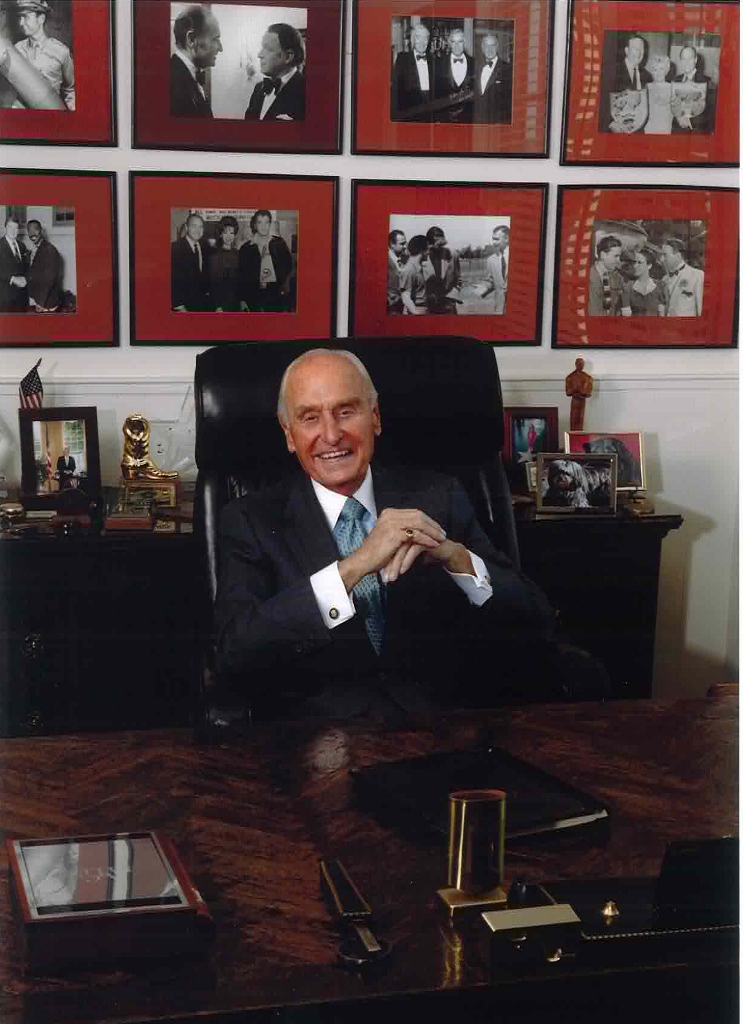 Robin Saban, Founder and President of the International Student Film Festival   Hollywood is pleased to announce A.C. Lyles as the recipient of the Lifetime   Achievement Award to be presented at the 5th annual International Student Film   Festival Hollywood Awards (ISFFH) Ceremony on Sunday, November 18, 2007 at   Beverly Garland's Holiday Inn in the NoHo Arts District.
A.C. Lyles is a living legend, he is a legend at Paramount Studios, living   what he loves to do.  Lyles knew by the time he was 9 years old that he wanted   to be a Hollywood producer when he started working at the Florida Theater, part   of the Paramount-Publix chain in Jacksonville, Florida. At the age of 18, Lyles   made it to Hollywood and began working as an office boy for Paramount's founder,   Adolf Zukor. Today, at the age of 89, Lyles has worked at Paramount longer than   anyone, still going to the office regularly with no intention of stopping.
Lyles quickly worked his way into the publicity department working on more   than seventy features over the next 12 years. In 1956, Lyles formed his own   production unit at Paramount and during the 60's produced scores of westerns   that became a staple for Paramount, starring the likes of John Wayne and Clint   Eastwood.
In 1983, his friend Ronald Reagan commissioned Lyles to the President's   Advisory Council. During the Reagan and George W. Bush administrations, he also   functioned as a Hollywood liaison, getting celebrities to entertain at the White   House and other presidential functions.
In honor of his long association and his outstanding contribution to the   motion picture industry, Lyles received a star on the Hollywood Walk of Fame in   1988 in front of the El Capitan Theater. At the same time, Paramount named a   building on the lot after him. Over his lifetime Lyles has received a plethora   of awards, it is truly an honor for the ISFFH to present him one more. For a man   who only wanted to make movies, Lyles is enjoying an amazing career!
After years of work in film and theater and passionate about the opportunity   to offer student filmmakers well-deserved recognition for their talents,   entertainment industry veteran, Robin Saban founded the Festival focused solely   on students in September of 2003. The ISFFH has been established and designed to   welcome students of all ethnic and academic backgrounds. Most participants are   undergraduate or graduate film students from educational organizations   throughout the world.  High school and Junior High School students compete in   their own categories.  This year, the ISFFH opened a category for Elementary   students to participate in the festival.
Hollywood is the capital city   of the entertainment world. The ISFFH offers student filmmakers   from all over the world a unique opportunity to gain the recognition of film   industry leaders. It is a forum for student filmmakers to showcase their   independent films in Hollywood. This event at the epicenter of the film industry   puts these students face to face with working Directors, Producers, and other   industry professionals throughout the event, giving them the invaluable   opportunity to promote themselves and their films.
During the last four years, the ISFFH has brought student filmmakers and   their families from the following countries: Australia, Canada, Germany, Israel,   Mexico, Colombia, United Kingdom, Turkey, Indonesia, Hong Kong, Sweden, India,   Iceland, Hungary, Russia, Georgia, Belarus, Italy, Argentina, Finland, and from    states throughout the USA. We have screened approximately 600 student films and   the Festival has helped to place more than 20 graduate film students into   production and post-production job positions.