Testimonials
"I wanted to thank you so much for your support of my work through the last several years. It feels wonderful to be recognized for Melting the Snowman and we were all very excited when we heard about our win. As an emerging filmmaker, your support definitely means a lot to me and I truly appreciate your generosity. Thank you!"
Best, Ora Yashar
Director of Melting The Snowman
Best Comedy 2010
---
"Congratulations Dorothy on another successful festival. What you and Robin do for student filmmakers worldwide is amazing. Keep it up"
Michael Greenspan
ISFFH Honoree 2009
November 2010
---
"Just wanted to say, it was truly a pleasure to have met you, Dorothy! Thank you for patience and courtesy. On behalf of the Rhine Maidens cast & crew, we'd like to thank you and Mr. Saban. We all had a wonderful time!!! Please let Mr. Saban know we all say, "Thank you!!!" '
Til next time! -Annette Martinez
Director of Rhine Maidens
November 2010
---
"Hi Dorothy, I just wanted to thank you for welcoming me the way you did and to congratulate you, Robin and all your team for a truly wonderful film festival. It was inspiring to see young creative artists from around the world coming together in the pursuit of excellence and engaging in the work in such a positive way."
Warm Regards, Jane E Seymour
Actor Audition Coach - RPW, Australia
November 2010
---
"Thank you for your human response. To me that is all that matters. It's funny. The whole part of this experience is learning what it takes to be a filmmaker, and part of that is believing in yourself, what you have to say, and moving forward no matter what. Film making is Olivia's passion and she has not only completed her 3rd "Lass" film, but has finished her final draft of a screenplay she wants to find financing for. (A comedy). I'm just happy there is a venue like yours to expose kids to a professional atmosphere! Thanks for writing back and we will stay in contact!"
Sincerely, Diane DeLaurentis 2010
---
"My son Taylor, who had his first entry with ISFFH when he was 12, is starting film school in the fall. The support and encouragement from Robin Saban and the ISFFH really helped contribute to him finding his true passion."
Thank You!
Dana Leach
July 2010
---
"Attending ISFFH was a fantastic experience and it has pushed me to reach for higher goals in my career. The best thing about the festival was meeting people and getting great ideas from different cultures. I firmly believe every filmmaker should go through with this kind of experience every once in a while! Don't miss one more deadline!"
Serap Atalay
Turkey
Director of Yasak Elma / Forbidden Fruit
Best Foreign Language Suspense/Thriller 2008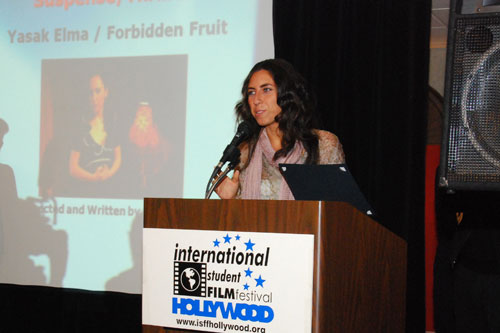 ---
"ISFFH was one of the best things that happened to me. Not only was it exciting to be accepted and win an award, but I was able to see my film with a live audience and get feedback! When you can make people laugh, especially from other cultures, it's very gratifying. I was thrilled that I could share the award with my cast! This was a once in a lifetime memory. Now, my film is up on IMDB and my award is framed to inspire me to make more films."
Sincerely, Olivia DeLaurentis
Director of The Adventures of Lass
Best Junior High School Parody 2008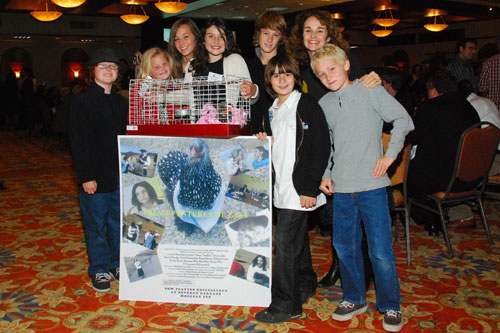 ---
"It's significant just to have your film screened in this film festival; you give yourself and your film the biggest promotion! What if you win? This festival opened many doors for me. Thanks to all of the ISFFH team."
Efe Conker
Turkey
Director of Geri Donusum Gunlugu / Recycle Diary
Best Experimental 2008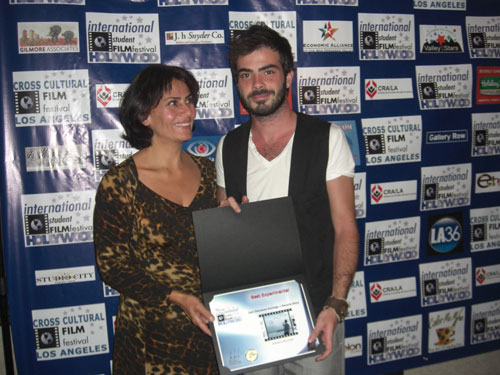 ---
"I would like to thank everyone involved in the ISFF Hollywood for their kindness and enthusiasm. They made me and my crew feel truly at home. The event was tightly organized and the screenings were technically flawless. I really enjoyed watching my movie on a big screen in front of an appreciative audience. I am also very proud that my movie, The White Room, got the Best Micro Budget Film award. Not every festival appreciates movies made on small budgets. ISFF is a great festival aspiring filmmakers to build connections and find an audience for their movies. Don't let your movies collect dust on your shelves at home, submit them to festivals - and don't forget to submit it to the ISFF Hollywood. You won't regret it."
Carsten Kurpanek
Director of The White Room
Best Micro Budget Film 2007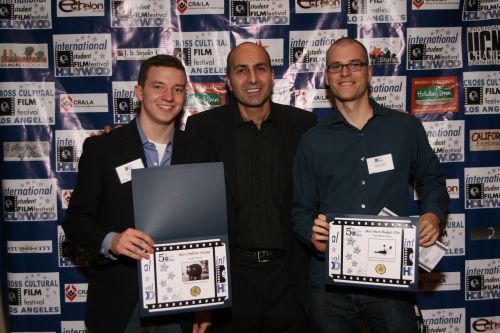 ---
"The International Student Film Festival Hollywood was a delight to participate in. Great guests, honorees, speakers - and a chance to trade notes with other filmmakers. The ISFFH treats each participant like part of the film family. I highly recommend that students, no matter what level, enter their film & video projects in ISFFH. It's a superb event to showcase your work and talents."
Craig Forrest
Co-Director of The Sounds of Silent Cinema
Best Documentary 2007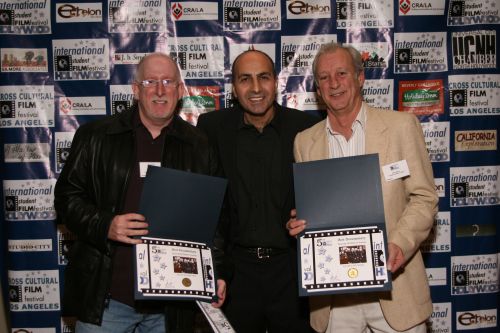 ---
"The International Student Film Festival Hollywood was an amazing, unique,
and special event. From the moment I arrived, I was welcomed by a hospitable staff and filmmakers ready to talk movies. The facilities were above-par, from the hotel to the screening room. I felt fully celebrated and honored for the work I had produced. But the true highlight for me was the networking and meeting of filmmakers: not only was I introduced to filmmakers from Israel and Sweden, but developed connections with people who live just a half hour from me! What a thrill. And winning an award simply topped off the weekend. I've been to many festivals, but none so special as this."
David Harris
San Francisco, CA
Director of Heart Attack
Best High School Comedy 2007
---
"The International Student Film Festival Hollywood has been a very important part of the growth of our B-TV program. Participating in this festival has elevated the level of our students' work, and has caused our students to re-think what their limitations are in terms of video production. The possibility of having their work shown in Hollywood has caused our students to work harder, to pay closer attention to detail, and to start concentrating on writing original student screenplays. Several of our students are now looking at Video Production as a college major and career. Our students have been inspired and motivated by this contest. With ten selected films and three winners in three years, the students are now constantly trying to improve over the previous year. I am grateful to Robin and the staff for providing this opportunity for high school and middle school kids!"
Jeff Rudkin
Video Production Teacher
Batchelor Middle School
Bloomington, Indiana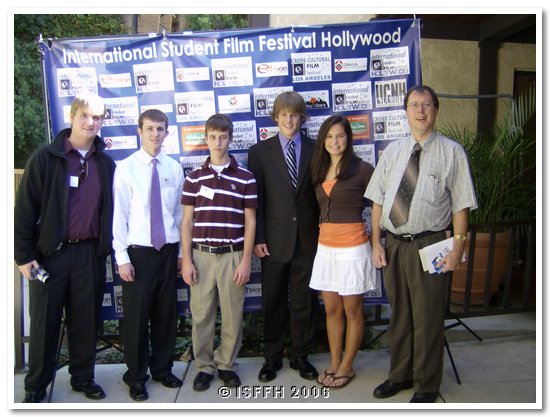 ---
"Living in Colorado, and somewhat removed from the main film industry, coming to the ISFFH was a wonderful opportunity for me to get a chance to talk to other established filmmakers and get their insights from years of experience in the field. It was also a chance to see what's being done by my peers and glean ideas for new innovations. It was a great experience for me, and the rest the crew that accompanied me loved it as well. I was honored and much encouraged by the award "The Sisterhood" won, and I hope to submit it to several other festivals, as well as continuing to hone the art and to produce films that will speak to my contemporaries and move them to move the world."
Chloe Anderson
Aurora, Colorado
Director of Sisterhood
Best High School Docu-Drama 2006
---
"One of the positive aspects of filmmaking is discovering new talent - the process of storytelling in all levels, writing, directing, acting, and cinematography is very wonderful and fulfilling."
Gloria Morrison
Vice-President and Co-CEO of Echelon Studios
---
"I graduated from the American Film Institute with a Masters in directing in 2002. My thesis film, The Legend of Razorback, turned out to be a surprising success. It won over fifteen different awards at film festivals across the country, aired on national television and most important, got me representation in Hollywood. The one thing it didn't do, however, was get me a job directing. I took a lot of meetings, met studio executives and had lunch with agents and lawyers; but still no job. I wrote a pilot, shot a pilot, developed scripts, wrote scripts, pitched reality shows, was close to shooting the pilot on one of them and on several occasions debated giving it all up and moving someplace that didn't have a freeway. I remember a chilly November night in NoHo in 2003, in a cozy theater on Lankershim Boulevard, Razorback winning the first award ever handed out by Robin Saban and the International Student Film Festival Hollywood. After the ceremony, a stranger in the audience asked if I'd like to teach filmmaking. I said I'd think about it. After all, I do have a Masters degree. Five years later, I've taught over four hundred elementary school kids film theory, production, acting, music video production, clay animation, and stop-motion animation. But most of all what I really think I taught them was to have passion, to believe in what you're doing and to get excited about what you love. The strange thing is that without them even knowing it, they taught me the same thing. Today, I have several feature projects in development with producers and agencies and every day I get a little closer to making my first movie. Maybe one day one of those kids will look up at the screen and with the credits rolling he'll lean over to his friend, point at my name as it zips by and say, "Hey, that guy taught me filmmaking." Stranger things have happened."
Michael Greenspan
Director of The Legend of Razorback
Best Cinematography 2003