Hollywood and Vine Screening with Q & A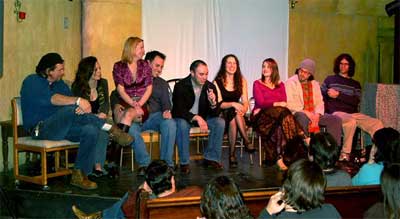 "What do you do when you're alone? When no one's watching? Five actors, one night... where the only stage is their lives and the only audience is themselves."

Hollywood and Vine, conceived of by director Eric Minh Swenson in the summer of 2005 and shot over the summer of 2006, walks the line between dark comedy and tragedy as we follow a night in the life of five aspiring actors living in Hollywood. This improvisation-based movie unflinchingly shows a stylized world full of actor wannabees desperate to be seen and get their break - all of whom have a dysfunctional side which reveals itself most when they are alone.

Director's cut followed by Q & A with the actors and director hosted by Robin Saban was on Friday, February 23rd, 2007 at 9:30pm, Theater Hub, 5245 Lankershim Blvd.(Just North of Magnolia and right across the street from The Academy of Arts and Sciences), North Hollywood, CA 91601. Seating sold out.
More info on director Eric Minh Swenson as well as the movie trailer and stills at: http://thuvanarts.com/F.64.html