2012 Howard Berger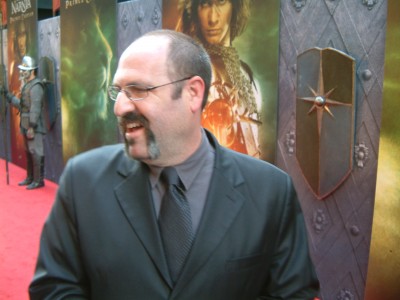 ISFFH Award of Excellence  2012 Recipient
Growing up in Los Angeles, California and having a father in the film industry helped encourage Howard towards a life of a special makeup effects artist. He started becoming serious about this career when he met his idol, the legendary Stan Winston, when he was 13 years old. Stan took him under his wing and encouraged him to be an up-and-coming artisan. Stressing the importance of education, Winston promised to hire Berger after high school with the understanding he maintain high grades and prove his attention to detail. Winston lived up to his promise and hired Berger at 18 years old to work on PREDATOR, PUMPKINHEAD and ALIENS. In 1988 KNB EFX Group, Inc. was co-founded by Howard and Gregory Nicotero and over the past 24 years, they have become one of the most prolific Special Make-up Effects studios in Hollywood. Specializing in character prosthetics, animatronics, creatures and replica animals, Howard has over 800 feature film and television credits including INGLOURIOUS BASTERDS, PRINCE CASPIAN, VOYAGE OF THE DAWN TREADER, KILL BILL 1 & 2, SPLICE, THE BOOK OF ELI, HOSTEL, THE GREEN MILE, THE PACIFIC, DOLPHIN TALE, FRIGHT NIGHT, SAVAGES to name a few. In 2006 Howard won the Academy Award for Best Make-up for THE CHRONICLES OF NARNIA: THE LION, THE WITCH AND THE WARDROBE as well as winning a British Academy Award for Best Achievement in Make-up for the film. Howard won an Emmy Award with his team from KNB for Best Prosthetic Makeup for the AMC hit television series THE WALKING DEAD.
This year he completed work on Disney's OZ THE GREAT AND POWERFUL starring James Franco, Michelle Williams and Mila Kunis as the Wicked Witch. The film opens around the world March 2013 and is sure to be a huge success.
Howard lives in Sherman Oaks, CA with his wife, Mirjam, and their 3 children, Kelsey, Travis and Jake.
Hollywood is the capital city of the entertainment world. The ISFFH offers student filmmakers from all over the world a unique opportunity to gain the recognition of film industry leaders. It is a forum for student filmmakers to showcase their independent films in Hollywood. This event at the epicenter of the film industry puts these students face to face with working Directors, Producers, and other industry professionals throughout the event, giving them the invaluable opportunity to promote themselves and their films.
After years of work in film and theater and passionate about the opportunity to offer student filmmakers well-deserved recognition for their talents, entertainment industry veteran, Robin Saban founded the International Student Film Festival Hollywood, focused solely on students in September of 2003.
The ISFFH is a non-profit organization that relies on the generosity of others. For more information about the ISFFH, please visit our website www.isffhollywood.org.